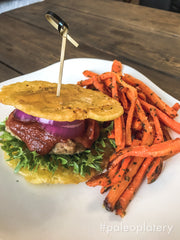 Ingredients
for the "bun":
2 cups coconut oil (for frying)
1-2 firm green plantains, peeled and sliced into 1-inch pieces
Himalayan salt, to taste

between the "bun":
paleo platery rib cutlets
bbq sauce (we have two available: pumpkin based aip & tomato based paleo)
lettuce
purple onion

Instructions
Heat the oil in a heavy saucepan over medium heat. Place a few plantain slices in the coconut oil, and cook until all sides are slightly golden in colour or for about three minutes. While the plantain slices are still warm, place them one at a time between two sheets of wax paper, and flatten with a tortilla press or a heavy pot to 1/4 inch thick. Return flattened slices to the skillet, and continue frying until golden brown. Drain on paper towels, and season with salt if desired.

To assemble:
Place one plantain round on a plate. Pile on the lettuce, onion, paleo platery rib cutlet, and bbq sauce. Top with another plantain round. Serve with paleo platery carrot fries if desired.