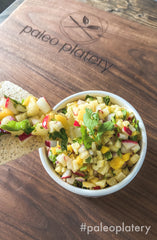 When you are sensitive to nightshades it might seem impossible to enjoy a compliant salsa...but here's one for you to try!

Ingredients:
1 cup finely diced jicama
5-7 finely diced radishes
1/4 cup finely diced purple onion
1 cup finely diced ripe mango or pineapple
2-3 cloves of garlic, crushed
1/2 cup chopped cilantro
1-2 Tbsp fresh lime juice
Himalayan salt to taste
Combine all ingredients and chill for at least an hour for flavours to blend. Serve with plantain chips,
Siete tortilla chips
 (AIP reintroduction of chia seeds), or
Sweetpotato Awesome
.