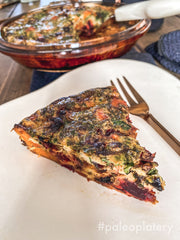 Ingredients:
1 to 2 cups paleo platery roasted root vegetables
1 cup packed fresh spinach, chopped
6-8 eggs #aipreintro (use less eggs if using more veggies)
1/2 cup coconut milk (or almond milk if you can tolerate nuts)
1 teaspoon parsley
1 teaspoon sage
1/2 teaspoon thyme

Directions
1. Preheat oven to 375 degrees.
2. Place paleo platery roasted root vegetables and chopped fresh spinach in a greased pie plate.
3. Combine the eggs, coconut milk (or you can sub for almond milk) and herbs into a large measuring cup. Mix well then pour over vegetables and spinach in pie plate.
4. Bake for 45-55 minutes, or until the center of the quiche is set and enjoy for breakfast, lunch, or dinner.

Check out more of our recipes by clicking here!