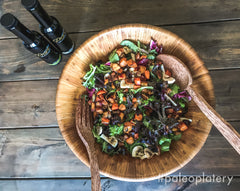 Ingredients
2 organic romaine lettuce hearts, chopped
2 cups organic field greens
1/2 package paleo platery roasted vegetables
1 cup fresh mushrooms, sliced (optional)
4 slices nitrate free bacon, cooked and chopped (optional)

Salad Dressing:
1/4 cup Prairie Oils and Vinegars Tuscan olive oil
1/4 cup Prairie Oils and Vinegars Oregano White Balsamic Vinegar
1 tsp dried oregano

Directions:
Heat paleo platery roasted vegetables in the oven, airfryer, stove top, or microwave until heated through. Combine Romaine lettuce and field greens into a large bowl. Top with mushrooms and cooked bacon. Prepare dressing by mixing all ingredients together and then pour on top. Toss well and then serve while vegetables are still warm.