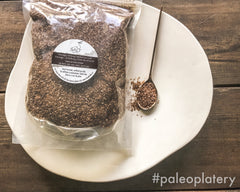 Durango-Hickory Smoked Salt
➡️ What is smoked salt? Durango Smoked Sea Salt by Canadian Small Business 
The Salt Cellar
is created when delicate Pacific sea salt flakes are naturally smoked with untreated Hickory wood, resulting in a full, smoked flavour without turning bitter. There is no liquid smoke (which often contains additional unwanted ingredients) and no artificial flavour added. Hickory smoked flavour is often synonymous with the flavour of southern cooking. It is a fantastic flavour booster.
➡️ Where do we source our smoked salt? We use 
@passionateaboutsalt
 as our supplier. They are located in Okotoks, Alberta and operate as a small team. They pride themselves on being local and they produce their blends in-house. They make their blends in small batches ensuring freshness. They started by selling at farmer's markets and then expanded into retail shops. They also sell in bulk to restaurants.
➡️ Where does 
@passionateaboutsalt
 get their salt?
All their salts are hand-harvested, unrefined sea salts from around the world. From the salt ponds in France to the salt deposits deep in the Himalayan Mountains.
➡️ Which 
#paleoplatery
 selections contain Durango-Hickory Smoked Salt? You'll find it in our 
rib cutlet meal
and
rib cutlet 4 pack
, sprinkled on our
roasted asparagus
, and in our
AIP pumpkin bbq sauce
which is available in a 4oz serving size, on our
AIP BBQ Chicken Wings
, and on our 
short rib meal
.
(Source: https://thesaltcellar.ca/)